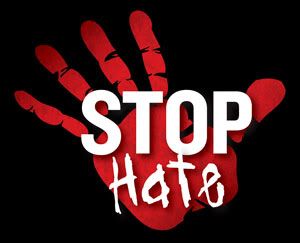 The mood in the country has been one of elation over the past two days. Since the announcement of the death of Osama Bin Laden, people have poured into the streets and commented in Social Media about how proud they are to be an American. And yes, we are so proud of our men and women who serve our country to ensure that we are safe and free.  We pray that our country is a place where all people are treated with compassion and equality and that no one should ever try to take our freedom away from us through the heinous acts of terrorism that those like Osama Bin Laden have attempted. However, while one threat is no more, there are still those who seek to terrorize us and shake our freedom to the core. And they are not those who live across the ocean, rather, there are those who terrorize us and especially our children here at home.
Just this week, I received the following email from Kevin O'Grady, the Orange County Director of the Anti-Defamation League. What he shares is beyond disturbing and we cannot turn our backs on what is happening to our youth here in Orange County. I ask that you please read this carefully and follow the suggestions he shares with us. Let us be partners in not only fighting terrorism in the greater world, but especially here in our own neighborhoods. And please, if you need any support from me or our temple family, please call! We are, nor should we ever, be alone.
–Rabbi Heidi Cohen
Please read this entire email.  We need to work together as a community to fight the increase in anti-Semitic incidence being reported to ADL; incidents that often involve middle school students.  We are helping a family that called us this morning and I wanted to share their story as an example of attacks that have been reported to us recently.
A young boy (Jewish) came home from the park claiming that he had been beaten up by two boys (brothers).  The victim's mother took her son to the boys' home and tried to speak to the boys' mother.  She refused to talk.
The victim's mom reported the incident to the school that all of the boys attend.  The principal tried to resolve the issue with the boys.
That evening the bullies' father went over to the Jewish family's home and started screaming profanity and using anti-Semitic slurs.  Again, the victim's father attempted to resolve the dispute amicably and was rebuffed with more slurs.
The bullies continued to pick on the young Jewish boy and made fun of his Star of David to the point that he was afraid to leave the house. On one occasion he was beaten so badly his parents called the police.
Last night when the Jewish family left their home by car, the neighbor followed them, pulled up beside them and yelled anti-Semitic slurs.  The Jewish family pulled over to the side of the road and the father got out of the car to confront his neighbor.  The neighbor attempted to attack him with a hammer while screaming anti-Semitic and racist slurs and making other statements that identified him as a white supremacist. He left before police arrived and he is now being sought by law enforcement.
When I received the call this morning, I immediately contacted the family to assure them ADL would work to protect them.  I then contacted the police to follow-up on the search for the attacker.  Following that, I contacted the hate crime unit of the Victims' Assistance.  The family will be assigned an advocate who will work with them to get a restraining order and advocate for them as the process moves forward.  As soon as the DA gets involved, we will work with them to bring the perpetrator to trial.
This is not an isolated incident.  We recently supported a Jewish family whose son was bullied and beaten so badly he left his school.  Another Jewish high school student was bullied and received a death threat.  A 6th grade girl in Long Beach was shown a picture of Hitler and told it was the last thing she would see before she died. We've had at least three calls during the last two months from parents whose sons have been called anti-Semitic names and had pennies thrown at them so other students "could watch the Jews pick up the pennies."  Another Jewish middle school student in Villa Park was kicked to the ground and had his glasses knocked off when he refused to take a bible from an evangelist outside of the school (a fellow student attacked him, not the evangelist).
WHAT CAN YOU DO?
Please report any incident of anti-Semitism you hear about even if you don't think it's significant. These reports help us identify patterns and work with law enforcement to put resources in place to combat the incidents.
If you hear your kids or your friends' kids talk about being called names, don't let them dismiss it as "joking." Contact the school and contact us. We will work with the school to assure the administration follows up and takes the incident seriously.
Encourage your friends to report incidents to us even if they don't think it's significant.  ADL is the expert on anti-Semitism; let us help you decide if something rises to the level of anti-Semitism.
If you are the victim of a hate crime (when you are the victim of a crime because of your Judaism) call 911 immediately. Work with law enforcement. Let us know as soon as possible.  We have relationships with all of the police depts., Victims' Assistance, and the DA's office.  We can help you in many ways.
Forward this email to your friends.
I have never sent an email like this before, but I haven't seen this level of anti-Semitism since I have been at ADL.  Rabbi Steinberg and I are working to create a community symposium to provide education on anti-Semitism and ways to combat it, but that is in the future.  In the meantime, please report any and all anti-Semitic incidents to ADL.
Kevin S. O'Grady, Ed.D.
Regional Director, Orange County/Long Beach
Anti-Defamation League
714-953-2860
kogrady@adl.org www.adl.org